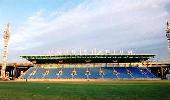 Icahn Stadium
---
2020-21 Winter T&F
Varsity Letter Winners
[10-Boys] [Girls]
as of 1/16/21
---
SJB T&F Records
Boys:
[Winter] [Spring]
Updated 2/9/20
Girls:
[Winter] [Spring]
updated 1/20/20
---
Woody's Boys
5 Minute Mile Club
[Full List]
[Freshmen]
updated 1/5/20
---
Past Results:
[2005-06] [2006-07]
[2007-08] [2008-09]
[2009-10] [2010-11]
[2011-12] [2012-13]
[2013-14] [2014-15]
[2015-16] [2016-17]
[2017-18] [2018-19]
[2019-20]
---
[T&F Team Rules]

[Mission Statement]


---
Listen and Watch
["Stick-Baton Live"]
---
SJB Track Team Video's
2008-1/7/10
[Click to see Video's]

---
Winter Track & Field 2020-2021
---
Up next Saturday 1/23/21: Developmental at SJB
The meet is cancelled due to wind chill temps

---
Saturday 1/16/21: Developmental at Chaminade HS
[Team Results] [Official Results Soon]
It was very nice to get on the track and start racing, and we got lucky with the weather

Soph Jonathan Tinti starts off our outdoor winter track racing season in the first event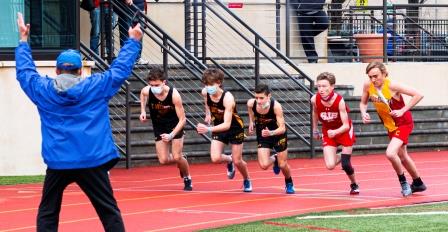 After the Frosh/Soph it was time for the varsity to get started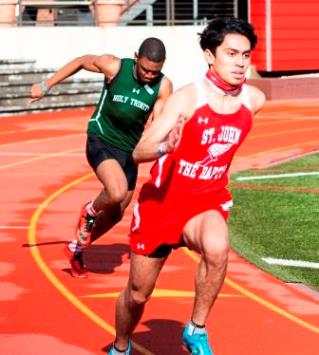 And we got to end the day with a relay!!!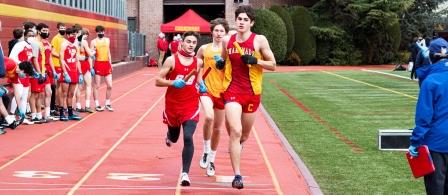 ---
Saturday 1/9/2021: Runners Time Trials from home: [Team Results]
Extremely Cold and Windy morning - It was not great conditions for racing - But MOST did it anyway!!!
---
Our next practice together is Monday 1/11 after school and our first competition is Saturday 1/16 at Chaminade
The competition will be 3 meets (sections) in 1 day. 10 to 11:30 will be frosh and soph - 11:30 to 1 will be top varsity - 1 to 2:30 will be all others. We are allowed to 10 athletes per event per school per section. I will have a line up posted soon.
Events in order: 3200 - 300 - 600 - missed relay (1600 - 1 lap (320m) - 1 lap (320m) - mile, Shot put - long jump
An athlete can only run in one event but may do a field event as a 2nd event.

---
Good News
Starting Wednesday 1/6/21, athletes on track and field can come to practice on the days their cohort is not in school. We know not everyone can get to SJB and for those athletes we will still assign workouts to do at home. If you can make it to school for practice you must have your temperature checked. If you make it to school before 3pm, enter though the doors by the auditorium and you will walk through the temperature check machines then meet the team in the gym. If you arrive after 3pm, you will enter through the gates by the field and you must see Theresa before going down to the track and joining the team. IMPORTANT, if it is your cohort's day to be in school but you stayed home and worked remotely, you are not able to come to practice at SJB and must do the at home practice. If you are sick, please do not come to SJB and do not do the practice at home. Get healthy and then return.
---
Wednesday 12/23/2020: Time Trials SP, 300's and 1600's:
[Team Results]
I hope everyone has a Safe and Merry Christmas
---


Welcome back - First practice is Monday 12/7
The first 2 weeks we will practice at SJB Monday - Thursday and only the cohorts that are supposed to be in school will be at practice. The cohort not at school will have a practice to do at home immediately after school. Also there will be a practice assigned for either Friday or Saturday (your choice) for all to do
---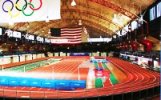 The Armory T&F Center
---
Week 7:
Mon 1/18: No Practice at SJB
Do your OYO workout
Tues 1/19- Thur 1/21:
3-4:40 after school
Thur 1/21: Team pictures in Gym First
Fri 1/22:
OYO since you do not have school
Sat 1/23:
Developmental Competition #2 AT SJB
[Team Line-Up]
Updated 1/20
---
Week 8:
Mon 1/25 - Thurs 1/28:
3-4:40 after school
Fri 1/29: TBD
Sat 1/30:
Developmental Competition #3
OUTSIDE at St. Anthony's
[Team Line-Up Soon]
---
Week 9:
Mon 2/1 - Thurs 2/4:
3-4:40 after school
Fri 2/5: TBD
Sat 2/6:
Developmental Competition #4 - Location TBD
[Team Line-Up Soon]
---
Fall 2 season starts
Athletes that are joining Spring Track & Field will be having practice a few times a week to stay in shape and ready to compete (Hopefully) in a real competitive season!!!
More info as it becomes available
---